In The Studio
May 22, 2014
It was a fun afternoon recording at Eastside Sound with Linda Presgrave, Harvie S and Alison Miller. This new CD of original music by Linda Presgrave – with two tunes I wrote lyrics for and sang – will be released on Metropolitan Records in early 2015.
An Ordinary Day
April 11, 2014
Yesterday I recorded a new song that I wrote in memory of a Music Together colleague and friend who was murdered in February 2014. The inspiration came from a interview with Joanne Brackeen from Marian McPartland's Piano Jazz Archives. Brackeen was quoting Ornette Coleman who once said to her "The flatted fifth stops all sound." I had tossed about 10 versions of a tune in honor of my friend, but after hearing this the tune, "An Ordinary Day,"  more or less wrote itself. David Pearl is at the piano. http://bit.ly/1kCdVcA
50 Tunes and Growing
April 4, 2014
I just spent a few minutes organizing the music that Ladies Day has been playing since our debut about 18 months ago. The file was stuffed to the point that I had to start a second, and on a whim I decided to count up the number of tunes in the pile. I was surprised to see that we've built up a repertoire of 50 tunes in this short time. (And there's another file of tunes I'd like to add, which is also getting pretty hefty.)  It's been a great voyage of discovery and detective work, following clues that have led me to so much terrific music. For our next outing on April 18th at Somethin' Jazz, NYC (click on Calendar for details) I'm pleased to say that our second set is comprised entirely of material by contemporary composers – Patricia Barber, Meredith D'Ambrosio, Lorraine Feather and more.  Here's a video of a couple of other contemporary songwriters we featured in a performance in January.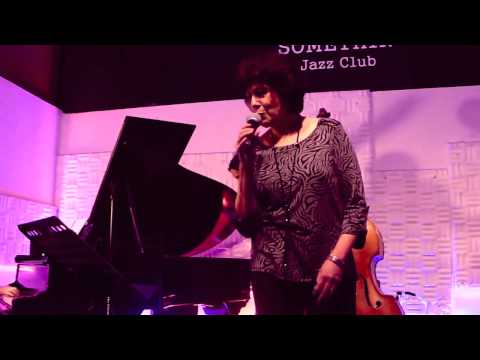 New! Ladies Day Logo
January 7, 2014
After artist Ann Ladd attended a performance of Ladies Day in October, I approached her about creating a Ladies Day logo. We met for coffee and tossed out some ideas and after a lot more to-ing and fro-ing (Ann was very patient!) Ann came up with this design. I am so pleased with the results!
Ann is an accomplished muralist, painter and sculptor, as well as being a fabulous teacher.  I first met her years ago when she was an art teacher at a program I attended with my then 2-year-old daughter. When we met again, at a party, we looked at one another and realized we knew each other. It took a few tries to figure out the back story, but once we did we realized how glad we were to have reconnected. It was Ann who encouraged me to apply for a place on the Teaching Artist Roster of ArtsWestchester, through which I have had some wonderful teaching experiences. An army brat, Ann spent part of her childhood in Thailand and since the 2004 tsunami Ann has returned to Thailand each January to teach children orphaned by the storm. You can see more about Ann's work as a muralist at http://www.theillustratedwall.com/index.html
SingersSpace.edu
August 13, 2013
So where do you go to try out new material, practice new techniques, keep your chops in shape? I go to Singers Space at Bar Thalia on Monday nights. I always learn something new from my own performance as well as by listening to the many singers, at all stages of development, from all genres of music, who show up on Mondays. It's a vibrant, fun-loving, supportive crowd. Richard Williams, one of the regulars, took this photo while I was scatting on "No Moon At All", one of my favorite summer songs.
"Ladies Day" Featured in Donne In Musica Newsletter
April 11, 2013
Ladies Day received a lovely write-up in the April newsletter of the Italian-based Donne In Musica. Like International Jazz Day, Donne is also affiliated with UNESCO. Here's a little bit about the organization.  "Women in Music, was born in 1978 as a movement promoting and presenting music composed and created by women worldwide, of all genres and in all times. "Equal Opportunities for Women in the Arts and Music" is at the heart of the mission and advocacy undertaken by the Adkins Chiti: Women in Music Foundation, an Italian cultural organisation, partner within cultural agreements undersigned by the Italian Foreign Ministry, member of UNESCO's International Music Council and the European Music Council, internationally recognised for its activities to obtain recognition and visibility for women in the cultural sector."
http://www.donneinmusica.org/en/news-and-events/news/news-2013.html
International Jazz Day Comes to Tuckahoe NY April 30th
I'm thrilled that the MJ Territo Quartet will be part of the worldwide celebrations of International Jazz Day. On Tuesday April 30, jazz musicians, educators, and broadcasters will be feting the diverse and wonderful world of jazz. Our celebration will take place from 7 – 10 pm at An American Bistro in Tuckahoe. I'm also glad that we're playing at the bistro, where Robert and Denise Horton provide a delicious take on traditional American cuisine, plus a genuinely warm and welcoming atmosphere. With Victor LaGamma, piano; Lee Marvin, bass; Terry Silverlight, drums. www.anamericanbistro.com
Meet Me At The Corner of Art and Music
March 18, 2013
New duo, new venue. Thanks very much to the Upstream Gallery for inviting Lee Marvin and myself to debut our bass and voice duo at their Sunday music series. We'll be there on Sunday March 24, from 2 to 4 pm, playing for the closing  of their "March Madness" show. The Upstream Gallery is at 26B Main Street, Dobbs Ferry, NY. http://upstreamgallery.com/index.html
Ladies Day at Somethin' Jazz
August 29, 2012
  Here we are, Ladies Day, just before our performance at Somethin' Jazz on August 22. Pianist Linda Presgrave is on the left, yours truly in the middle, and bassist Iris Ornig on the right. A good time was had by all, musicians and audience alike. My favorite moment was watching Somethin' Jazz Chairman Steve boppin' loose as a goose to the Fran Landesman tunes at the end of the second set. We'll be back at the club  on October 18th, with some new tunes by different women composers. I'm researching, but it's so hard to choose because there is so much great, rarely-heard, material out there. Let me know if you've got any suggestions!
"Ladies Day" Gets Front Page Feature in Larchmont Daily Voice
August 7, 2012
Singers Space July 9th
July 12, 2012
Relaxing after the F-Spot (that's featured) at Bar Thalia. Played to an enthusiastic SRO crowd. Great fun, and such a privilege to sing for so many other singers!
Ladies Day
July 2, 2012
For a long time, I've felt that the contributions of women composers and lyricists  to the jazz repertoire weren't as well-known as they ought to be. So now there's a trio called Ladies Day ready to rectify the situation. Last November pianist Linda Presgrave and I performed a program exclusively of compositions by women, including ourselves. I'm thrilled that we will be presenting the program again, along with Iris Ornig on bass. We've got music by Peggy Lee, Fran Landesman, Bertha Hope, Marian McPartland, Melba Liston, as well as several original tunes, including "The Bird of Ceret", a composition of Linda's for which I've written lyrics. We'll be at the Watercolor Cafe in Larchmont on August 9 and at Somethin' Jazz, E. 52nd St, NYC on August 22. (Click on the Calendar for all the info.)
Related show
NYFA Mark '12 Boot Camp!
May 2, 2012
The Byrdcliffe Gallery, Woodstock, NY,  was one of the meeting sites of NYFA's Artist as Entrpreneur Boot Camp, which I was selected to attend the last weekend in April. It was a fantastic experience – spending three days with so many wonderful visual and performing artists, learning so much from the excellent presenters, and really digging in to the whys and wherefores of doing business as an artist. The only hard part was that the weather was so beautiful outside that it was hard not to want to be out in the sunshine. But the weather was fine and fair indoors too, and I am thrilled that I was invited to be part of such an invigorating, thought-provoking, and exhausting experience. When you see me, ask me about eating frogs!
NYFA serves artists of all disciplines. Their website is a cornucopia of really useful information   http://www.nyfa.org/default_mac.asp.
St. Paul's National Historic Site
April 14, 2012
   It was a thrill to sing for the first time at a national historic site, the beautiful Revolutionary War era church, St. Paul's. To get to this beautiful place, in Mount Vernon just north of the Bronx border, you drive down a heavily industrialized street, full of scrap metal dealers, auto body shops and small manufacturers, when suddenly you come upon this unexpected oasis. A crab apple is all pink splendor, framing the gate to the burial ground. The church, spare in line and color (except for the incongruous stained glass window added in the 19th century), was used as a field hospital by both sides during the Revolutionary War. It was in continuous use as a church until 1977, at which time the parish had dwindled precipitously, and the church was handed over the US National Park Service for preservation. (Read more at  http://www.nps.gov/sapa/index.htm).  Alan Rosenthal, Lee Marvin, and I played there the first day of spring, and I chose a set of songs dedicated to spring. I also added some lyrics to one of my favorite evocations of spring: the Primavera section of Vivaldi's Four Seasons. Singing was easy, inspired as I was by the sight of budding trees behind the tall arched windows and by the knowledge that we were welcoming a new season in a place that has seen so many other springs.
Somethin' Jazz Performance
January 21, 2012
New York City's only snowstorm of the winter didn't deter an enthusiastic, if damp, crowd from showing up at Somethin' Jazz for the Linda Presgrave Quintet with me as special guest. I had the pleasure of singing the lyrics I wrote for Linda's "Bird of Ceret" again, as well as Bertha Hope's "You Know Who!", this time with a great rhythm section – Fred Weidenhammer on bass and Seiji Ochiai on drums – and with Stan Chovnick, (who plays the melody on Linda's CD, Inspiration) taking a solo on soprano sax. Tenor saxophonist Todd Herbert dropped by as a surprise guest. Here's the whole group on the final tune of the night, "Centerpiece."
Teaching Artist Residency
December 15, 2011
My second teaching artist residency for ArtsWestchester, at the DiChiaro School around the corner from my house in Yonkers, ended today. Boo hoo! Last spring, I taught three classes of  enthusiastic first graders and their fabulous teachers. We had so much fun learning to sing and scat on "Jeepers Creepers", and it was a blast dancing with the kids to so many classic jazz tunes. We also did units on classical and world music, but of course the biggest thrill for me was the kids' enthusiasm for the music they (sadly) knew so little about.
Returning in the fall, I was assigned not only to the first grades again, but also to the Kindergartens and Pre-K classes. This time the first graders sang and scatted on "When You're Smiling" and used music by the Congolese group 4 Etoiles for percussion instrument play. The K and pre-K classes had more traditional music and movement instruction, but jazz and world music were in the mix too.
As they had in the spring, the first graders sent me off with a packet of hand-drawn pictures and letters from EACH student. Here are a few of my favorites (click to enlarge):
MJ, Linda Presgrave & Bertha Hope
November 3, 2011
Composer and pianist Bertha Hope came to the Pizza Place to hear Linda Presgrave and me perform her wonderful song, "You Know Who!" Bertha kindly graced us with a fabulous version of "Black Coffee" between the sets.
Now here's a piece of jazz lore that Bertha told us about the tune. It's attributed to Paul Webster and Sonny Berke, but Bertha's 411 is that Marian McPartland really wrote it. Anyone else know anything about this?
Toe in the Tyrrhenian
June 17, 2011
In Sicily I got to stick my toe in 3 different seas – Mediterranean (twice); Ionian (cold!) and Tyrrhenian (the best and the bluest). We were on a walk on a coastal path in the Zingaro nature reserve, from San Vito Lo Capo to Scopello. The path is high on a cliff overlooking the seas but you can also take smaller paths down into the calas, or coves.
'We spent a long time in this cala, wading along the stony shore, scrambling over the rocks, and then just sitting on one, looking out at the view. Along the path there were giant bushes of fragrant rosemary in full purple flower, wild fig trees, spiky white lupins, and hundreds of wildflowers I could not identify. The dominant colors are yellow, blue, and green, colors that appear repeatedly in Sicilian pottery. A feast for the eyes, and for the tummy too, when we had the well-deserved gelato at the other end.
The Cat in the Hats
August 15, 2010
WORLD CUP 2010: Four lives games during our ten days in Johannesburg, another billion on TV, and a couple in the Montecasino Fan Zone with our hosts and friends, Carol, Barry, Pippa and Tim Bruyns. A fan zone is one of the amenities set up for the World Cup all over J'burg – outdoor venues with huge TV screens where people could gather to watch games they didn't have tickets for. They were giving out free hats on this very cold night and I ended up wearing all of them at one time. Always did want to give Dr. Seuss a run for his money!
For the live games we attended we were armed with ear plugs to minimize the buzz of the vuvus. We saw three games at the stunning new Soccer City and one at historic Ellis Park (featured in the recent film Invictus). It was inspiring to be part of a truly global event, and also to witness the great surge of well-justified national pride that South Africans took in being the first African country to host the World Cup. With so many intractable wars in so many parts of the world, it was a joy to be, at least for a few days, in a place where the whole world was united by their love of "the beautiful game."
Here's an idea – no more wars, just settle everything with a football match. Much more fun and easier on people and the environment.